HISTORIA



Chuck Schuldiner un muchacho de Florida con 15 años allá por 1983 junto a dos amigos Kam Lee (batería) y Rick Rozz (guitarra) tocaban en una banda llamada Mantas (como tributo al guitarrista de Venom). Grabaron una demo de cuatro temas llamado Death by Metal al mismo tiempo que se formaban otras grandes bandas dentro de la historia del metal y similares a Death: Possessed y Celtic Frost. Más tarde la banda cambia su nombre a Death y editan otro demo Reign Of Terror y, en marzo del 85 se registra su tercera demo titulada Infernal Death. Chuck se traslada a San Francisco y deja a Rick y a Kam que fundaron más tarde Massacre.

Ya en San Francisco, Chuck conoce al baterista Chris Reifert de Autopsy y al guitarrista John Hand. El grupo tuvo la colaboración en los ensayos del bajista Steve Digiorgio (Sadus) y, con un amplio elenco de temas se graba la demo que los lanzaría a su primer contrato discográfico serio: Mutilation en el año 86. Death ficha por Combat Records y un año más tarde queda registrado su primer disco: Scream Bloody Gore.

En 1988 Chuck se separa de John y Chris y vuelve Rick Rozz (guitarra) a la banda, Terry Butler en el bajo y Bill Andrews en la batería completaron la formación. Death continuó componiendo temas y vio la luz su álbum más brutal: Leprosy. Finalmente Rozz deja la banda y lo reemplaza James Murphy.

1990 marcó un punto de inflexión en la banda. El álbum Spiritual Healing demuestra mayor madurez y seriedad en el aspecto lírico así como un salto cualitativo y técnico en la instrumentación, sobre todo en las guitarras. Durante la gira hubo diferencias en la banda y Chuck fue expulsado y reemplazado por otro vocalista. La formación no duró mucho ya que Rozz (anterior guitarra de la banda) reclutó a Butler y Andrews para relanzar el proyecto de Massacre y James formó parte de otras bandas como Obituary o Testament.

Chuck vuelve a la carga en 1991, con más fuerza que nunca, recluta a Paul Masvidal, Sean Reinert y a su viejo amigo Steve Digiorgio. Relativity Records es el sello encargado de lanzar su cuarto álbum: Human aún más técnico que el anterior y que marcaría la nueva tendencia que seguiría Death dentro del Technical Death Metal. Se graba el vídeo Lack Of Comprehension con una recepción magnífica por parte de todos los seguidores en el mundo. Y, algún tiempo después, en el 92, se lanza un álbum recopilatorio: Fate - The Best Of Death.

Corría 1993 Death vuelve a hacer historia marcando nuevas pautas con el álbum Individual Thought Patterns. Gene Hoglan (batería) de Dark Angel, Andy LaRoque (King Diamond) y Steve Digiorgio son los realizadores de este álbum. Poco después vino el segundo vídeo: The Philosopher. Cada álbum era diferente, aportando nuevas ideas y dando frescura, ninguno fue la excepción. En 1995, Death ficha por Roadrunner Records y lanzan Symbolic, nuevamente con nuevos miembros a excepción de Hoglan, los demás puestos fueron ocupados por Kelly Conlon en el bajo y Bobby Koelble en la guitarra. Este álbum es sin duda el álbum más progresivo de Death pero para nada desentona con lo que esta banda acostumbraba a dar a sus fans.

Pasó tiempo y no se supo nada de Death, hubo rumores que Chuck dejaba Death para seguir en otra banda donde solo tocaría la guitarra: Control Denied y, aunque muchos temían que Death no reapareciese más, fue un simple proyecto de Chuck. Entraron en la banda músicos de primerísimo nivel: Shannon Hamm (guitarra), Scott Clendinin (bajo) y Richard Christy, otro eximio baterista. En 1998 se fichó por Nuclear Blast y vio la luz su último disco: The Sound Of Perseverance el cual nos muestra a una banda madura, con exhibiciones de brutalidad, melodía y técnica. Hay que resaltar el cambio de estilo de Chuck al cantar, ahora su voz es mucho más aguda y desgarradora. The Sound of Perseverance también incorpora una sorpresa: una versión del tema Painkiller de Judas Priest.

Desafortunadamente a Chuck se le diagnostica un tumor cerebral, muchos sellos discográficos, fanzines, revistas y bandas organizan una gran subasta de artículos exclusivos relacionados con Death y el metal en general para ayudar a Chuck y su familia. El propio Chuck donó sus guitarras, el gran bajista y amigo de Chuck Steve Digiorgio, su bajo personalizado y algunos sellos aportaron material de colección para ser subastados con el fin de recaudar fondos para la intervención de Chuck. Después de que se diagnosticara la enfermedad de Chuck, Nuclear Blast lanzó en 2001 dos trabajos en vivo: Live In L.A. (Death & Raw) y Live In Eindhoven grabado en el Dynamo Festival del '98. El jueves 13 de diciembre de 2001 a las 16.00 Chuck Schuldiner perdió la batalla por su vida cerrando Un capítulo en la historia del death metal.




DISCOGRAFIA:


1985-Back From The Dead (demo)



http://rapidshare.com/files/76604761/_1985__Back_From_The_Dead__Demo_-www.bunalti.com-uploaded_by_sxcap.rar

1986-Mutilation (Demo)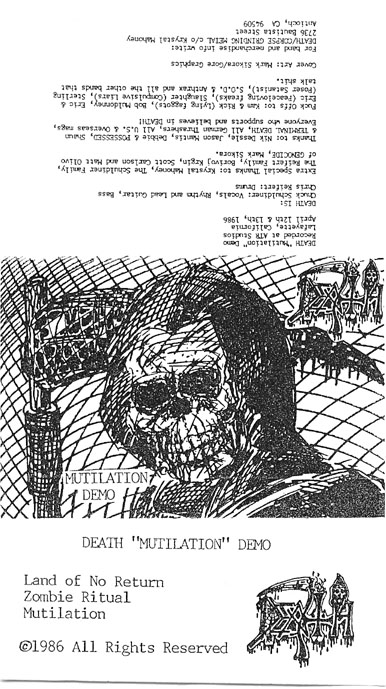 http://rapidshare.com/files/76603767/_1986__Mutilation__Demo_-www.bunalti.com-uploaded_by_sxcap.rar

1987-Scream Bloody Gore




http://rapidshare.com/files/76667731/_1987__Scream_Bloody_Gore.rar

1988 - Leprosy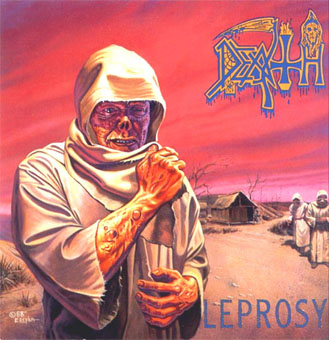 http://rapidshare.com/files/76668875/_1988__Leprosy.rar

1990 - Spiritual Healing




http://rapidshare.com/files/76670753/_1990__Spiritual_Healing.rar

1991 - Human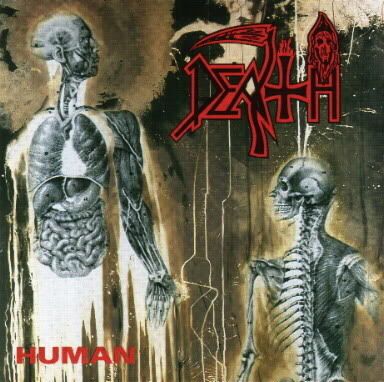 http://rapidshare.com/files/76671631/_1991__Human.rar

1993 - Individual Thought Patterns




http://rapidshare.com/files/76672845/_1993__Individual_Thought_Patterns.rar

1995 - Symbolic




http://rapidshare.com/files/76657206/_1995__Symbolic.rar

1998 - The Sound Of Perseverance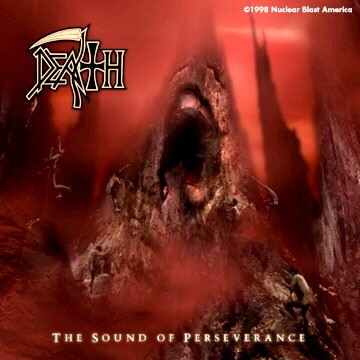 http://rapidshare.com/files/76661625/_1998__The_Sound_Of_Perseverance.rar




LIVE



1984 - Live In Florida




http://rapidshare.com/files/76742166/_1984__Live_In_Florida.rar

1995 - Live In Japan : Symphonic Technicalogy




http://rapidshare.com/files/76675543/_1995_Live_In_Japan__Death_-_Symphonic_Technicalogy.rar

1998 - Live In Philadelphia




http://rapidshare.com/files/76659778/_1998__Death_-_Live_In_Philadelphia__Pennsylvania.rar

1998 - Live In Eindhoven




http://rapidshare.com/files/76733753/_1998__Live_In_Eindhoven__98.part1.rar
http://rapidshare.com/files/76725081/_1998__Live_In_Eindhoven__98.part2.rar

2001 - Live In L.A


http://rapidshare.com/files/76678827/_2001__Live_In_L.A.rar
Pass para todos los discos:
bunalti.com
Chuck Schuldiner R.I.P